The Harrowing of Yeshua is destined to ruffle some feathers. There is a lot to like in this novel, but if you are a religious person, particularly a Christian, then you may find much to dislike as well. I open with this because I think that fair warning may be in order as the title may draw some readers in expecting one thing and finding something quite different instead. As a Christian myself, I constantly battled my desire to put this book down and walk away, but I think that if you can keep a certain amount of open-mindedness, you'll find an intriguing story following the sort of pattern laid down in Dante's Divine Comedy.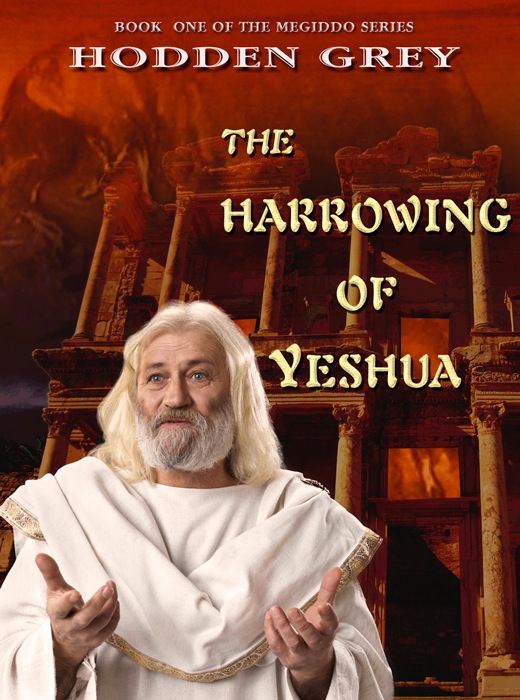 We follow Camille, a young and heroic woman living in modern London. There is a rather unusual switching back and forth in narrative point-of-view in this novel, with Camille's chapters told in first person and the rest of the novel (a little more than half, I'd guess) in third person, following various Biblical characters such as Lucifer, extra-biblical characters such as Lilith, and of course the Yeshua of the title: Jesus. Camille dies—or, more correctly, is almost dead—and wakes in a spiritual realm reminiscent of the antechamber of Hades. Here she meets Yeshua, and together they venture into the realm of Timorous, which has replaced Hell. Yeshua guides Camille through Timorous in much the same way Virgil leads Dante through Hell, meeting fallen angels along the way and stopping to observe the punishment of the impure—there is no damnation here, only purification of the soul so it can enter heaven and eventually be reincarnated on Earth.
Part of the novel is concerned with just whose reincarnated spirit Camille might be. Buddhist concepts intermingle with Judeo-Christian thought to create something that attempts to explore the human condition in the course of Camille's journey through Timorous. Also, DaVinci Code fans will find some parallels here too, particularly in the theory surrounding Jesus' marriage to Mary Magdalene and the fact that her body (or spirit in this case) is somehow sacred. Partly due to my personal beliefs and interests, I spent a great deal of time trying to pick out various allusions (for good or ill), which proved rather distracting, but which also added a nice layer of literary complexity to an already-complicated story.
Mr. Grey's Lucifer is also reminiscent of Milton's Satan, a tragic heroic figure who desires redemption. However, unlike Milton's character, this Lucifer ultimately does come across as a decent—well—human being. And therein lies an issue that I cannot make up my mind on: the demonic and angelic characters here seem rather human at the end of the day, and I'm not sure whether that is a good thing or a bad. I get what Mr. Grey is trying to do in recasting various mythologies, but I would have liked to see demons that were, if not more demonic, at least more alien. In fact, the evilest character in the novel is the mythical first wife of Adam, Lilith, a human woman who has a god-delusion and aims to overthrow all of Heaven. This points to a central concept here: humankind does not need Satan to motivate us to wrong each other; we do it automatically, which is a rather chilling thought, and reasonably well developed in this novel. (Lucifer, it seems, has learnt his lesson, and spends all his time trying to put out fires in an attempt to appease the Creator and win entrance back into Heaven.)
But beneath all of this mythology, theology, and [insert chosen "-ology" here], we have a story that is all about what it means to be human. A story like this one will never claim to give answers, but what it does do is try to explore questions of morality, mortality, immortality of the soul, and love. This is a modern novel, so the morality in question is not necessarily your grandfather's, but there is a clear case being made herein that humankind has gone awry from our course. The mortality-immortality question is one that, I think, we all find interesting, and while one may disagree with some of what is presented in this novel, there is no doubt that Mr. Grey presents us an imaginative and yet consistent series of ideas patterned, as I have mentioned, on a variety of faiths, both extant and extinct.
Of all the characters, I found myself sympathizing with most with Camille's boyfriend, Max. The poor guy is clearly trying to do the right thing by Camille, and yet he is driven on by the cosmic forces surrounding her near-death, all his attempts to protect her going sadly askew. However, props to Mr. Grey in that he does not attribute all hardships to the supernatural forces surrounding Camille's near-death. No, often it is pure and simple human frailties that contribute, exacerbate, or outright cause much of the grief. All of this ties into the thematic concerns mentioned previously, especially questions of morality and how those project into the afterlife, and it is a nice way to keep the story grounded in human terms.
Overall, I find much to like in The Harrowing of Yeshua, and if I were more capable of removing myself completely from my own beliefs, I think I might find even more here to fascinate me. Nevertheless, I don't think there is a kinder word to be said than that this book, despite its flaws, is a satisfying addition to the "descent into the underworld" subgenre, which boasts many of the finest titles of literature. It is the first in a trilogy and so leaves many questions hanging in the air (indeed, ending rather abruptly too), but then even Dante's spiritual journey took three books to complete.