The moment I finished reading Lindsay Buroker's The Emperor's Edge, I was eager to get my hands on the sequel, for which I had to wait a few weeks. While I definitely enjoyed this second entry in the series, I am slightly concerned that the formula may already be wearing thin.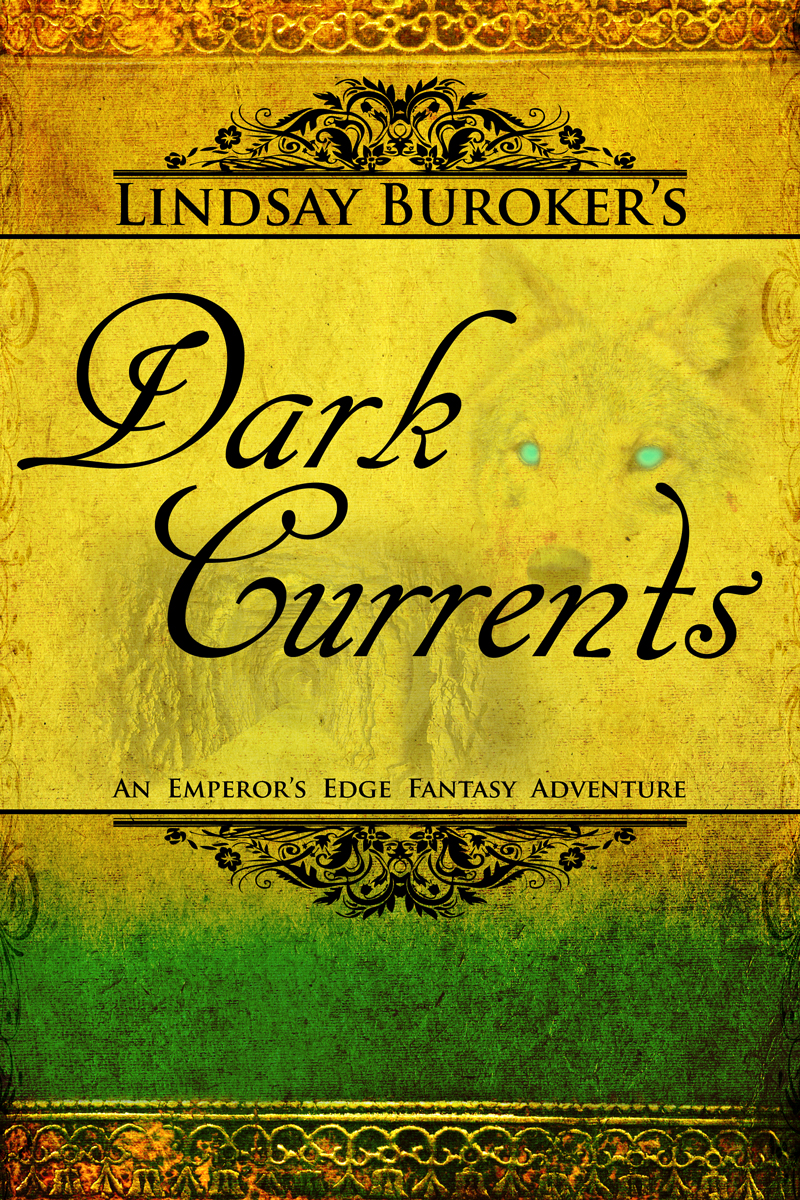 For a start, Dark Currents once again features Amaranthe, Sicarius, and the rest of the crew as they continue seeking out good deeds to do in the empire in order to exonerate themselves, Amaranthe and Sicarius being wanted by the crown for crimes against…well, the crown. In Amaranthe's case, she's on the receiving end of a misunderstanding. Sicarius is, well, an assassin. This novel really begins to bring forward the difficult time Amaranthe is going to have clearing her name given her associations, and in that sense Buroker has a long and exciting series ahead for us readers.
On to the story itself: once again, the characters shine. The group is growing more and more comfortable together and really learning to work as a team. In this sense, Buroker has collected a nice array of characters with a wide array of talents. Perhaps it is a bit clichéd in that we have our intrepid leader, the assassin, the academic, the silent man with the secret past, the inexperienced magician, and the dandified swordsman, but each of these characters does manage to be more than these short labels imply, and in that sense I am glad to see that Buroker has not rested on her laurels and allowed the clichés to take over. Books, for example, is not only an academic, he's also a recovering alcoholic, a man pining for his dead wife, and longing for a family; the only real part where the cliché comes into play is in the fact that he doesn't know which end of a sword to hold in a fight.
The plot is nicely seeded with misdirection. This is a mystery after all, and there are several moments when I sat back and said to myself, "Well, I didn't see that coming." And those moments were well implemented here. That is, they did not seem to come out of nowhere but were carefully foreshadowed early in the narrative. But while it was a fun story, it wasn't the most original: Angry wizard out for revenge sells his soul (and dignity) to lure the object of his hatred into a secluded area where he almost manages to trap and kill him before being outsmarted and killed himself. There's not a terrible amount of depth to the plot beyond that, but then I think Buroker herself will admit that her stories are more about the characters themselves than the plot, though it is very action driven at that. Still, the story is more concerned with how Amaranthe's ragtag group of fugitives comes to rely on each other as a family rather than on the action of catching the bad guy.
Which brings me to my one real complaint: I grew increasingly frustrated with Amaranthe as Dark Currents progressed. Frustration is not an emotion that I like to feel when reading, even if it is the emotion the characters themselves feel. Amaranthe's unwillingness to listen to Sicarius' sound advice and her willingness to act on every crazy scheme she has is tiring. In this sense, I fear that Buroker's formula may wear thin fast, for that is very much how the first novel ran. Once, and it is fun, entertaining, and nerve-wracking. Twice, and I grow frustrated that Amaranthe doesn't seem to learn from past experience.
Even with that concern, I really enjoyed Dark Currents by the end. The resolution, which results from a very cleverly implemented bit of misdirection by Sicarius, made me forgive Amaranthe her frustrating habit, at least momentarily. Perhaps this was Buroker's cleverness as a writer all along. Perhaps she wanted me to almost scream in frustration only to see somebody with some brains outsmart everyone else. From what I've seen of Buroker's writing thus far, I'll give her the benefit of the doubt and say that I wouldn't put such a maneuver past her.
My Rating: ★★★★★